We are well into our Third Decade!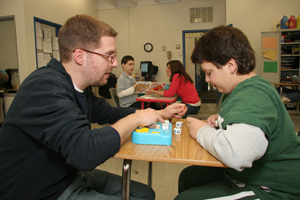 The School
When the Foundation for Educating Children with Autism (FECA) was established 24 years ago, the diagnosis for autism was roughly 1 in 10,000. The understanding of both causes and appropriate interventions was reflected in the lack of services and educational programs for children and adults with autism. FECA stepped into the breach to establish a school, the Devereux Millwood Learning Center (now known as Devereux CARES) in 1996, and is now broadening the scope of its mission as children have grown into adulthood.
The Devereux Adult Program
Nearly a decade ago, FECA again partnered with Devereux to establish the Devereux Adult Program. Through establishing this community based program, eighteen young men currently travel in vans with their job coach to various volunteer sites where they are given the opportunity to apply and expand their skills and provide a valuable service to their communities.
The Opportunity Network for Employer and Employees (ONEE)
Three years ago FECA launched its next project – the Opportunity Network for Employers and Employees (ONEE) when it became abundantly clear that area day hab programs needed help in finding new and expanded volunteer and potential employment sites for adults. ONEE partners with area adult service providers to survey interest and skill sets of their participants towards further refining a data base of opportunities. ONEE has created eight new sites for the Devereux Adult Program, including Westchester Medical Center and Cortlandt Health Care. A second partner, the Hawthorne Foundation, is underway. Securing opportunities for individuals after day hab hours is a priority.
Extraordinary Ventures New York (EVNY)
In 2015, FECA provided the critical start up funds for the creation of Extraordinary Ventures New York (EVNY). Creating small businesses specifically geared to the unique skills of adults on the spectrum is the primary mission of EVNY. FECA's support has enabled the establishment of the first two businesses: EV Gifts which includes seasonally festive candles sold at area markets and fairs and a new line of bracelets, and Extraordinary Ventures New York Laundry. 
The statistics currently are overwhelming: 1 in 68 children are now diagnosed with  Autism Spectrum Disorder (ASD). Enormous strides have been made in the understanding, early diagnosis and intervention of ASD. Though it has been difficult to keep pace with the burgeoning numbers, the vast majority of individuals receiving effective treatment graduate to adulthood with skills and experience to offer their communities, if given the opportunity. Thus, FECA's mission has grown and evolved alongside those we endeavor to serve and will continue to as we face the future as the Foundation for Empowering Citizens with Autism.
FECA Mission:

To ensure that individuals with autism spectrum disorders lead meaningful and productive lives. We do this by advocating for appropriate educational, vocational, employment, community outreach and integration, treatment, and other related programs and services on behalf of individuals on the autism spectrum.
FECA Vision:

Developing, providing and supporting sustainable and accountable educational, vocational, employment, community outreach and integration, treatment, and other related programs and services for individuals affected by autism spectrum disorders.