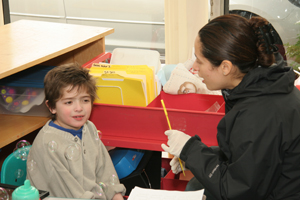 For over a decade and a half our first school, the Devereux Millwood Learning Center (DMLC) received substantial funding from FECA for staffing and programs essential to its mission.
FECA historically supplemented the funding provided by each students' local school district and enhanced teacher's salaries and further education through incentive and scholarship programs. As the student population advanced toward graduation FECA increasingly focused on enhancing vocational opportunities, hiring DMLC's first vocational director and purchasing vans to further community integration.
In recognition of the exponentially growing adult population and to help individuals continue to grow and lead productive lives, funds raised by the Foundation for Empowering Citizens with Autism will be largely devoted to the creation and expansion of volunteer and employment opportunities.
We gratefully acknowledge the support of corporations and individuals who enable us to provide our students with a quality educational experience and the vocational and life skills that will help them in the future.
FECA is incorporated as a fully certified 501(c)(3) non-profit organization.
All Donations are 100% tax deductible.
---
Donations Can Be Mailed To:
Foundation for Empowering Citizens with Autism
PO Box 813
Mount Kisco, NY 10549
Online Donations:
To make an on-line donation to FECA, please click on the "Donate" button.
Car Donation Program:
Donate your car or truck to F.E.C.A. and receive a tax deduction. This no cost, no hassle process begins when you contact our fundraising partner, Donation Line LLC at 877-227-7487.
Make sure to ask for us by name or our extension #2923. Or you can click here: www.donationline.com.